The Happy Birthday Update is here!
---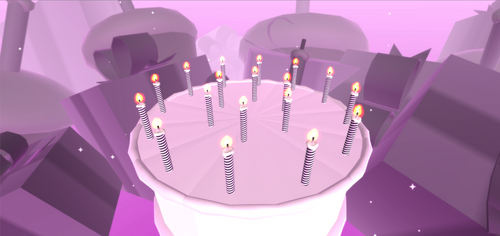 The creator of Spin the Beat had a birthday on Friday, June 23! To help celebrate, the first major content update to Spin the Beat is here, featuring a BRAND-NEW level!
The new "Birthday" stage takes place atop a giant birthday cake surrounded by enormous wrapped gifts. Slices of the cake will drop away in time with the music. Enemies take on the appearance of wrapped presents and balloons, with some of them spewing confetti when defeated. Unlike the Garden and Cave stages, enemies cannot hop around in the gaps on this stage - they'll fall right through! Watch out for the new "Cake Splitter" event, which spreads the cake's slices out to create a much trickier platforming experience.
As with any update, this patch also includes a few minor fixes and adjustments, including making the Game Mode selection on the main menu loop - you can now press either left or right to change game modes rather than left for Party Mode and right for Survival Mode.
The update is live now! Enjoy it as an upbeat start to the summer!
Files
Spin the Beat (Mac)
55 MB